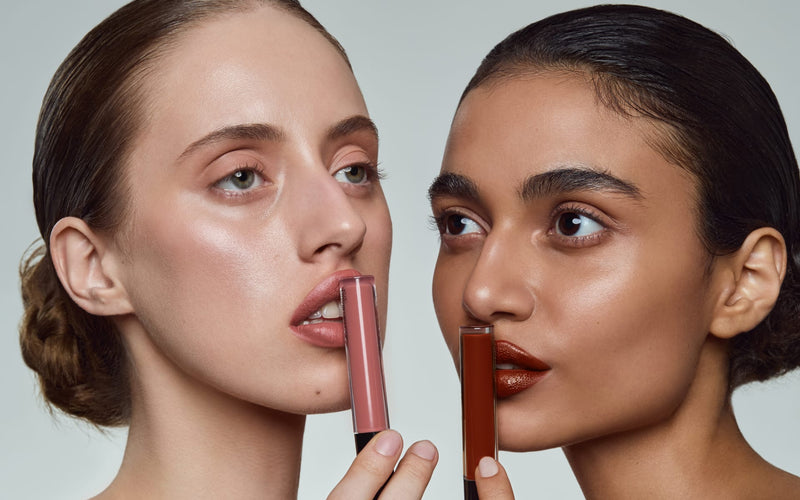 Lips
Our lips products are enriched with only natural ingredients, comfortable to wear and make a statement – whether natural or seductive.
Our priority isn't just how makeup looks, but also how it smells – and most importantly, what's in it! Here at UND GRETEL, we want to offer you the best possible cosmetic experience. Contemporary, high-end makeup – no toxic ingredients, no animal testing, no compromises! Certified natural cosmetics from Berlin. It might sound outlandish, but with UND GRETEL, it's truly possible.




The texture of our UND GRETEL lip products is designed to make them easy to apply. Thanks to their high pigmentation, the various shades of KNUTZEN and TAGAROT glow like nothing you've ever seen before. Whether natural, matte, with an elegant shimmer, fresh or seductive: The range of colors found in the two UND GRETEL lip products offers the right shade for every occasion and every individual look.




The name TAGAROT comes from the Middle High German word for the reddish color of the sky at dawn. I make it so easy to get your day started – just put me on and you're ready to go.

Luscious shades for velvety-soft lips.




Babassu butter and avocado oil add moisture. Beeswax provides natural protection for sensitive skin. Castor seed oil stimulates collagen production and prolongs product adhesion. The wax of the Carnauba palm has a water-repellent, protective, and moisture-binding effect.

It's a lipstick that also acts as a lip balm, thanks to its natural ingredients.




KNUTZEN gets its name from another Middle High German word. In this case, it's "knutzen," meaning "to press together" – you might've already guessed that it also means "to kiss."




This lip gloss comes in two finishes: either sensual, elegant, and velvety, or juicy, shimmery, and glossy. Our UND GRETEL Gloss offers the right texture and color for every preference.




KNUTZEN is formulated using naturally nourishing ingredients like castor seed oil, beeswax, and regenerating vitamin E. Castor seed oil stimulates the skin's own collagen production, while beeswax nourishes, protects, and provides moisture. Vitamin E regenerates cells and protects against free radicals.




Our lip products TAGAROT and KNUTZEN can also be combined wonderfully. The natural pigments they contain allow the textures to "fuse" together. In this way, you can create completely new, nuanced colors by experimenting with various combinations.