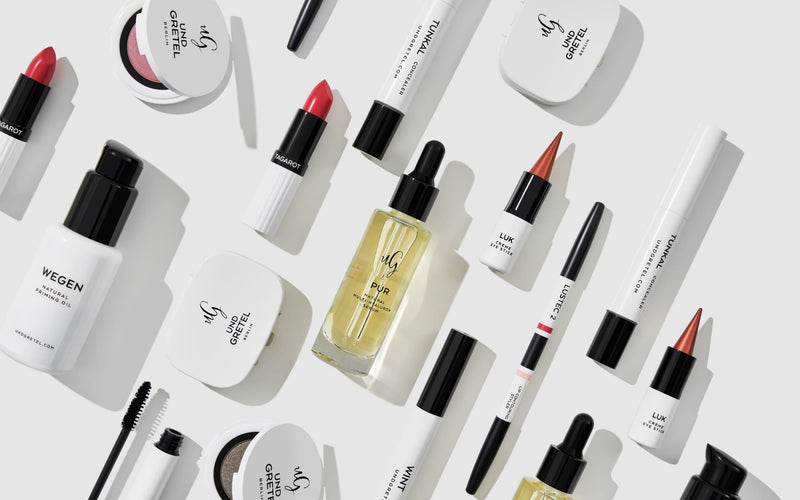 All products
Your fresh start into spring: find your skin-loving UND GRETEL favorites right here.
UND GRETEL makes natural cosmetics of the very highest quality. The brand came into being because one of its two founders, a makeup artist for celebrities and models, wanted to be able to work with something that at the time didn't exist: a pollutant-free and natural alternative to conventional makeup that could truly hold its own.

All UND GRETEL products are BDIH certified. This rigorous, comprehensive standard for beauty products requires strict adherence to the number-one rule: NO BAD STUFF!



And that's more than just a requirement for us. Here at UND GRETEL, it's really more of a guiding principle – something that has been part of the brand's DNA since the very beginning. All UND GRETEL products are of course manufactured without animal testing, and most are vegan.




Because our priority isn't just how makeup looks, but also what's in it! UND GRETEL wants to offer you the best possible cosmetic experience. High-end makeup and natural cosmetics – with no compromises! It might sound outlandish, but with UND GRETEL, it's truly possible.




With deliberately minimalist yet easily combinable UND GRETEL product line, you can let your imagination run wild. All of our products have been designed to be combinable with one another – thanks to the unique properties of the natural and mineral pigments they contain. For example, you could use the UND GRETEL LIETH foundation and your favorite shade of TAGAROT to create the perfect custom blush for your cheeks.




Whether you prefer your makeup to be bold, playful, classy, down-to-earth, sexy, smooth, glam or simply naturally stunning – emphasize your unique and natural beauty just the way you like it.